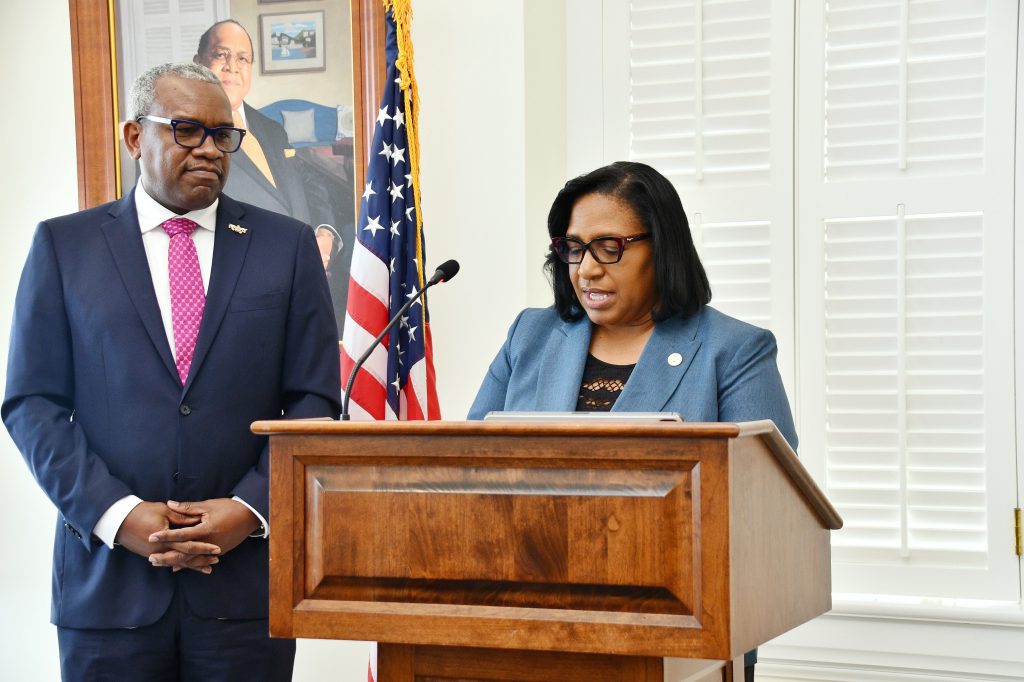 U.S. VIRGIN ISLANDS — During the Government House weekly press briefing on St. Thomas on Tuesday, Governor Albert Bryan Jr. nominated Lisa Alejandro to the position of Commissioner of Property and Procurement.
Commissioner Nominee Alejandro had been serving as Acting Commissioner of the department since February 14, when former Commissioner Anthony Thomas resigned.
"Going through the government, I've always said the most important departments are the four wheels on the bus. That's Finance, OMB, Personnel and Property and Procurement," Governor Bryan said. "Those four wheels make everything, how we make everything happen. How we hire people. How we pay people. How we budget the funds that we have. And how we get products and resources to the people that are working."
Commissioner Nominee Alejandro has more than 27 years of experience in inventory management and procurement, 17 of which she has spent in government procurement, while serving in various capacities such as Contract Administrator, Manager of Procurement and Contracts, and Chief Deputy Commissioner of Procurement.
As Acting Commissioner, Alejandro functioned as the Chief Procurement Officer, responsible for managing and overseeing the Territory's Procurement, Central Stores and Warehousing, and Vendor Maintenance Divisions through the Office of Procurement, Contract Management and Reporting.
Commissioner Alejandro is a certified Contracting Officer Representative, holds a Master's degree in Operations Management and remains an active member of the National Contract Management Association.
Following her nomination, Commissioner Nominee Alejandro will go before the Legislature's Rules & Judiciary Committee, which will be followed by the Legislature's action on her nomination.
Social Security stipends
During Tuesday's briefing, Governor Bryan also announced that the Office of Management and Budget (OMB) will begin accepting applications online on June 5 from Social Security recipients who have not yet received their $500 stipend checks.
Eligible residents can either register online at omb.vi.gov (click on "Customer Contact" and then "Request Assistance") or call OMB at 340-774-9759. Checks will be printed June 12.
The Bryan-Roach Administration is investing in the Territory's people, infrastructure and future through transparency, stabilizing the economy, restoring trust in the government and ensuring that recovery projects are completed as quickly as possible. Visit transparency.vi.gov