U.S. VIRGIN ISLANDS — Governor Albert Bryan Jr. on Thursday morning took part in the ground-breaking ceremony for the Donoe Redevelopment Project, a three-phase public housing initiative that is part of the Virgin Islands Housing Authority's (VIHA) effort to replace the housing in Tutu on St. Thomas that was destroyed by the hurricanes of 2017.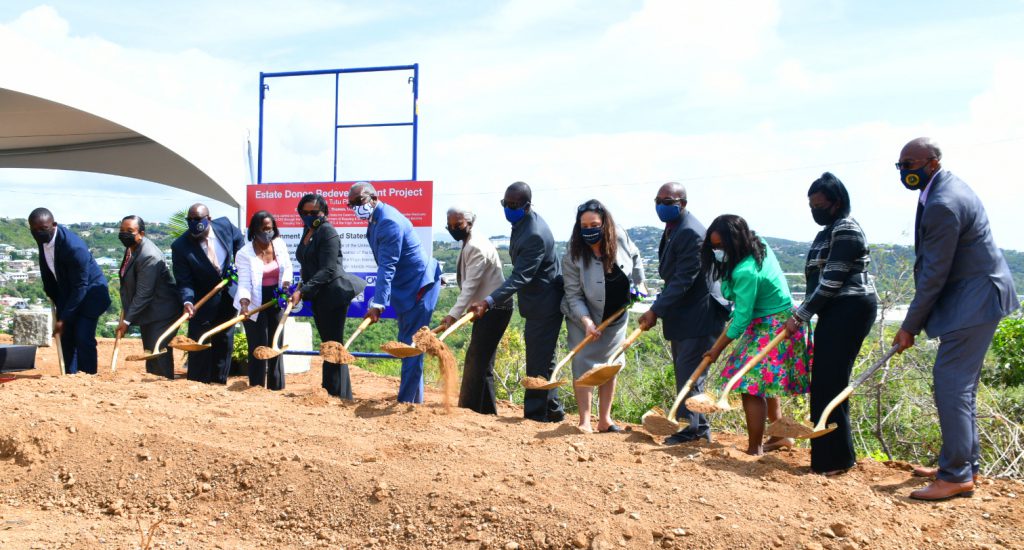 Governor Bryan, members of the 34th Legislature and other stakeholders took part in the official ground-breaking for Phase 1 of the Tutu/Donoe initiative, which will comprise 84 units in 14 buildings and be built on the site of the original Donoe housing community that was destroyed by Hurricane Marilyn in 1995. The community is being co-developed by VIHA and Pennrose LLC, with development consultant Jackson Development Company.
The Governor said the Donoe Redevelopment shows the Government's commitment to building safe, sanitary, energy-efficient, reliable, hurricane-proof housing for Virgin Islanders and give them an opportunity to own a home.
"If we're going to do it, we're going to do it right," Governor Bryan said. "The people who are going to be living here in this community when it is done in December, start planning to own your own home. And if you know it's too late for you, start training your children how to own property, invest and own their own home."
According to the V.I. Housing Authority, the community will have a hurricane-resilient construction design and will conform to National Green Building Standards, with open floor plans, Energy Star appliances and lighting, low-usage water fixtures and high-efficiency air conditioning units in the bedrooms. In addition, the community will use an onsite micro-grid with a solar photovoltaic system and micro-turbine battery backup system, so there will be no electricity bills for residents.
Governor Bryan said he sees projects like the Donoe Redevelopment as a way to create the opportunities necessary for Virgin Islanders to better their standard of living and become productive and vital members of the community who help strengthen the Territory's economy.
"As we go through this, we're going to have to create all kinds of intricate ways and new ways to allow for us to have revolving systems" that will provide opportunities for Virgin Islanders who are just above the income level to get assistance but just below the income level to qualify for a bank mortgage," the Governor said.
"That is what we're about. Attracting young people. Empowering them. Giving people assets that they can leverage to have better lives for their children," Governor Bryan said.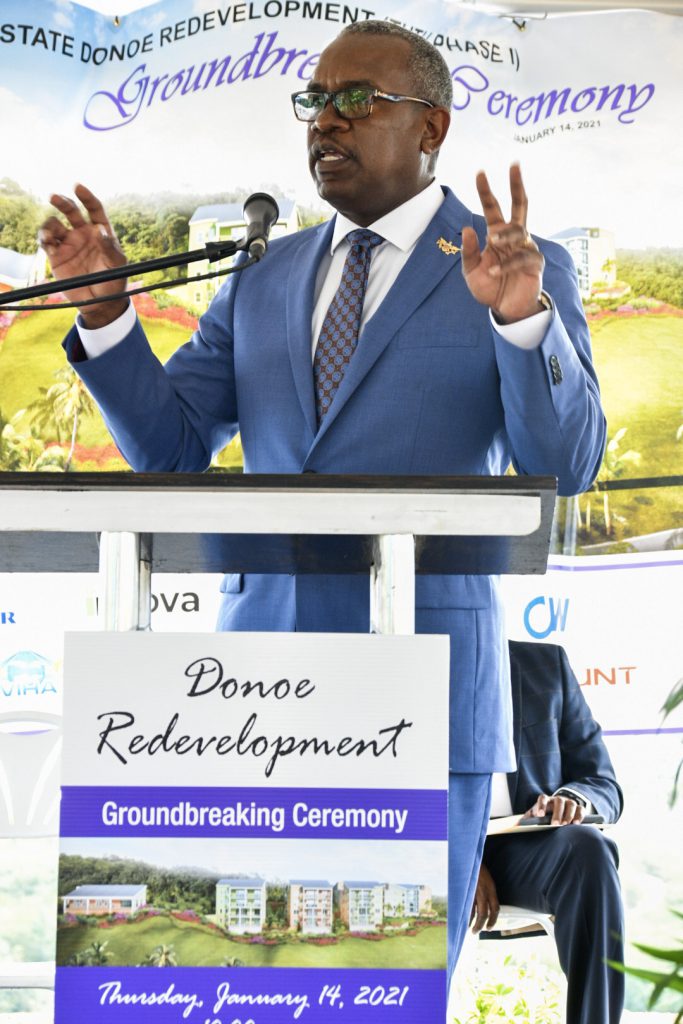 The Donoe Redevelopment is budgeted for $57.7 million, with Hunt Capital Partners providing $26.95 million in 9 percent federal low income housing tax credit equity and additional financing through Banco Popular, Federal Home Loan Bank-Affordable Housing Program funds and Community Development Block Grant-Disaster Recovery funds. All 84 units will be subsidized HUD project-based vouchers, and VIHA will enter a Housing Assistance Payment agreement that assures their affordability for 20 years, with an option to renew the contract.
"If we're willing to spend $678,000 a unit to put people in apartments that they will never be able to own, we have to be willing to spend $400,000 to give Virgin Islanders a chance for home ownership," Governor Bryan said. "If we're going to attract the Virgin Islanders that are going to truly build this community, we have to figure out a way to give them a home."
The Bryan/Roach Administration continues to be committed to transparency, stabilizing the economy, restoring trust in government and ensuring that the disaster recovery is completed as quickly as possible.