The gross domestic product (GDP) for the U.S. Virgin Islands increased 2.8 percent in 2021 after decreasing 1.9 percent in 2020, according to statistics released by the U.S. Bureau of Economic Analysis.
The GDP is a comprehensive measure of the Territory's economic activity and estimates the value of the final goods and services produced U.S. Virgin Islands, without double counting the intermediate goods and services used to produce them.
"This robust growth of the USVI's economy underscores the Bryan-Roach Administration's commitment to boost the Territory's economy and strengthen Virgin Islands families," Governor Albert Bryan Jr. said. "By making good on past due obligations owed to Virgin Islands workers, the administration continues strengthening our financial stability and the continued growth of the USVI economy."
The increase in real GDP reflected increases in exports and personal consumption expenditures. These increases were partly offset by decreases in private inventory investment, private fixed investment, and government spending. Imports, a subtraction item in the calculation of GDP, also decreased.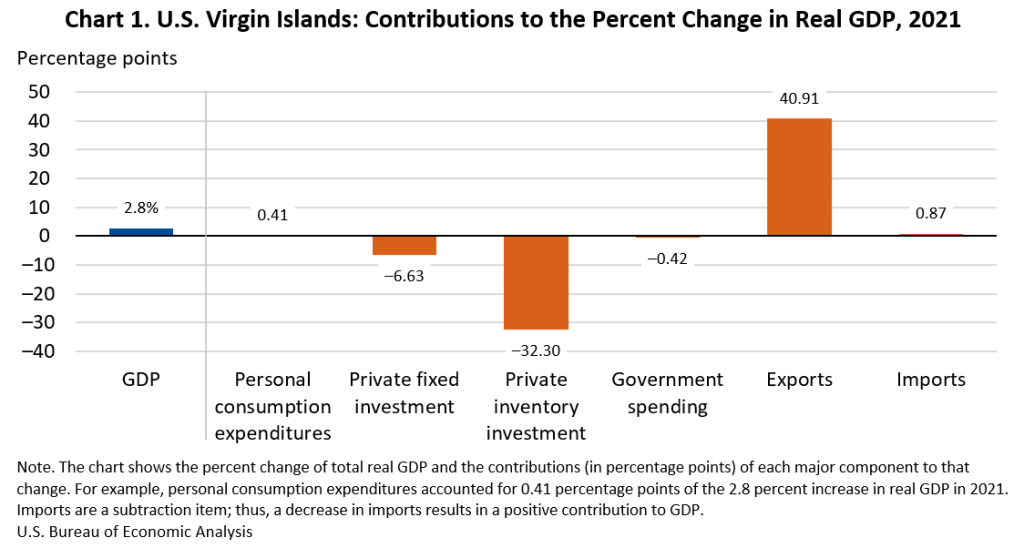 Click here for more USVI economic data.
Exports increased 94.9 percent, reflecting increases in both goods and services. The growth in exports of goods primarily reflected increases in exports of crude oil and petroleum products. Exports of services, which consists primarily of spending by visitors, also increased. Total visitor arrivals were higher in 2021 than in 2020. Although cruise arrivals were lower, statistics published by the USVI government show that arrivals of air visitors, who spend more on the islands than cruise visitors, were 97 percent higher in 2021.
Personal consumption expenditures increased 0.6 percent, reflecting increases in spending on both goods and services. Consumer spending was supported by government assistance payments distributed to households through the CRRSA Act and the American Rescue Plan Act.
Private inventory investment decreased, as crude oil and petroleum product inventories were drawn down for export and use in petroleum refining.
Private fixed investment decreased 36.8 percent reflecting declines in business spending on construction and equipment. Investment spending had been elevated in prior years to support capital improvement projects, including the restart of the oil refinery on St. Croix.
Government spending decreased 1.2 percent, primarily reflecting a decline in spending by the federal government. Federal government spending decreased after being elevated in 2020 to support reconstruction of federal facilities heavily damaged during the 2017 hurricanes Irma and Maria. Territorial government spending decreased 0.3 percent, reflecting a decline in compensation of employees.
These statistics were developed under the Statistical Improvement Program funded by the Office of Insular Affairs of the U.S. Department of the Interior.
The Bryan-Roach Administration is investing in the Territory's people, infrastructure and future through transparency, stabilizing the economy, restoring trust in the government and ensuring that recovery projects are completed as quickly as possible. Visit transparency.vi.gov