U.S. VIRGIN ISLANDS—Governor Albert Bryan Jr., Lt. Gov. Tregenza Roach and all 15 senators of the 33rd Legislature, in an emergency meeting held today, agreed to work collaboratively to identify funding to meet VI Water and Power Authority's outstanding obligation to Vitol, in an effort to stave off an energy crisis that may leave ratepayers with heftier bills for unreliable service.
On Friday, Vitol, the company supplying propane gas to the utility, issued a default notice to WAPA saying it would suspend propane deliveries at noon today, Saturday.
The default notice came on the heels of yet another denial by the Public Services Commission (PSC) for a base rate increase, which would allow WAPA to refinance its debt.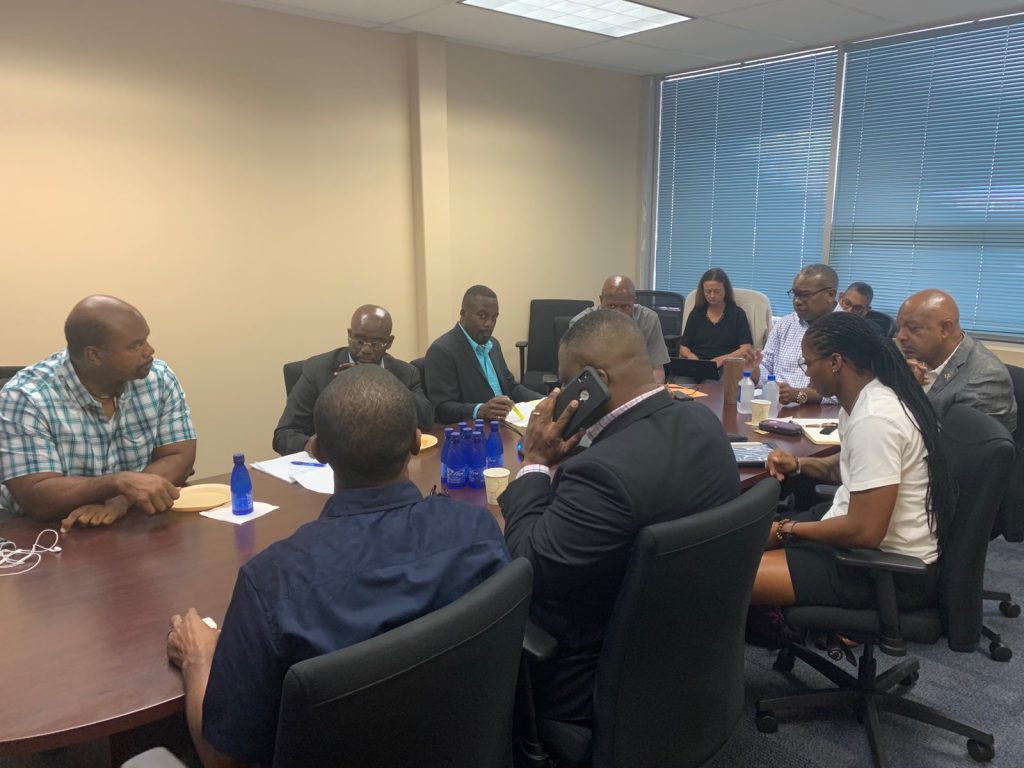 On Dec. 12, the PSC voted unanimously to decrease the electric Levelized Energy Adjustment Clause (LEAC) rates to 16.39 cents per kilowatt-hour, and the water LEAC to $5.03 per thousand gallons, effective Jan. 1 – without a corresponding increase in the base rate.
Following the PSC's decision, Vitol declared the Authority in default of its payment obligations. The Authority has been petitioning the PSC since April for a base rate increase.
At approximately 11 a.m. today, Saturday, Vitol ceased operations at its propane facility, forcing WAPA to shut down its most efficient propane-fueled generators, and only use much more expensive No. 2 oil on its older, less efficient generators.
WAPA officials have said the utility does not have revenues to pay the higher fuel costs and will not be able to sustain electrical generation without an immediate infusion of cash.
Following the two-and-half-hour meeting held by video-conference between Governor Bryan, Lt. Gov. Roach, senators and Larry Kupfer, WAPA Chief Executive Officer, senators agreed they would consider meeting in Special Session next week to appropriate upwards of $3 million to meet the utility's immediate shortfall to begin the resupply of propane gas.
"We do have a real crisis. A few hours ago, we switched over to diesel fuel, which puts us in a precarious situation," Governor Bryan said. "The most immediate need right now is for relief to the Authority."
Governor Bryan also requested that the lawmakers work alongside his Administration to develop a long-term solution to addressing WAPA's mounting debt, which includes supporting a base rate increase.
The central government has already been making payments to assist WAPA with its liquidity issues. However, that assistance is not sustainable, Governor Bryan said.
Senators agreed to work with the Administration on a long-term solution, which includes possibly developing legislation to ensure the funds generated from the base rate increase are used for its intended purpose. Senators are also asking that WAPA be fully transparent about how funds from previous rate increases to pay Vitol have been used, and work to improve its billing practices.
WAPA pledged to make a greater effort to resolve its billing discrepancies, which has created a lot of anxiety in the community.
"We agreed to work together to hold WAPA accountable to the people. Many questions have been posed that need to be answered," Governor Bryan said. "Our intent is to create a solution that is well-thought-out and holds WAPA accountable. Our goal, always, is to have a more reliable and affordable power grid." He also asked that WAPA to begin implementing measures as a "show of good faith."
Governor Bryan, senators, and WAPA officials will meet again on Monday to continue discussions.