September 16, 2020 | 8:22 AM AST
U.S. VIRGIN ISLANDS – Governor Albert Bryan Jr., members of his Financial and Advisory Teams and other senior advisors met with Senators of the 33rd Legislature on Tuesday to brief and answer questions the Senators may have prior to Thursday's Special Session for the Senate to take action on the Governor's proposed Matching Fund Securitization bill.
The Governor's proposed legislation would establish the Matching Fund Securitization Corporation as an instrumentality of the Government of the Virgin Islands (GVI) used to refinance the GVI's Matching Fund Bonds debt, marking the government's re-entry into the bond market and creating a cash flow of $255 million over the next three years that can be used to shore up the Government Employee's Retirement System and other needed projects.
Governor Bryan and his Team met with the Senators to ensure that they have full and accurate information on the Securitization Transaction, as they requested, previous to the Special Session scheduled for September 17.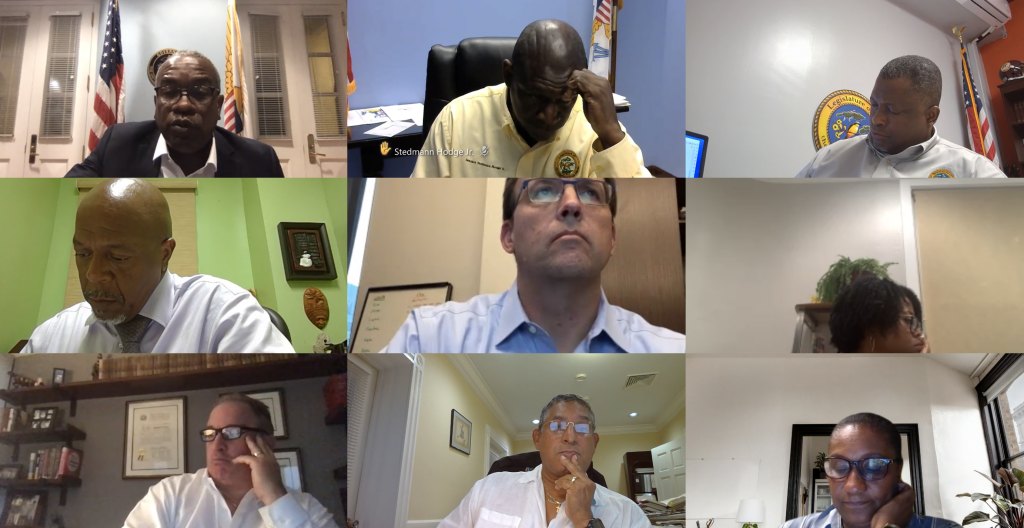 "There has been a lot of misinformation surrounding the purpose of this financial transaction and how it will work," Governor Bryan said. "Just as we did before the first Special Session, my Administration has pledged to be open and transparent about this legislation so Senators can feel confident in their support of it."
The Matching Fund Securitization Act, which marks the USVI's re-entry into the bond market for the first time in 11 years, can potentially create a revenue stream of $85 million for each of the next three years by reducing the Territory's annual debt service on the Matching Funds Bonds. The Act would significantly increase cash flow and create a vehicle for the government's future project needs, according to the Governor.
The Governor has said that while shoring up the Government Employees' Retirement System remains a priority for the use of the funds, there are several potential uses and needs for the funds that will become available because of the refinancing.
"With this new revenue, we can create a closely monitored revolving fund that will help us get our projects moving faster," Governor Bryan said. "We also still owe many of our employees and retirees' money in retroactive pay and 8 percent. We have not forgotten. Ultimately the Legislature will have the purview to decide how this money is spent, but we must insist that the GERS be our utmost priority. The opportunity to refinance our existing longterm debt to achieve upfront savings and immediate cashflow is too great an opportunity to overlook."
Governor Bryan, members of his Financial and Advisory Teams, and other senior advisors will meet again at 6 pm Wednesday to allow another opportunity to provide additional or follow-up information and answer further questions the Senators may have.
The Special Session is scheduled for 10 a.m. Thursday, September 17.
####
––––––––––––––––––– CONNECT WITH US –––––––––––––––––––